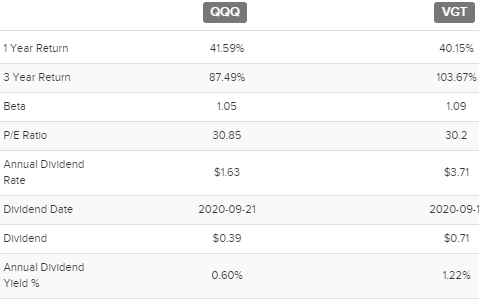 The Vanguard Information Technology ETF (VGT) closely tracks the much more famous Invesco QQQ ETF (QQQ) with the latter having 200,000 followers on Seeking Alpha.
Figure 1: Performance of VGT and QQQ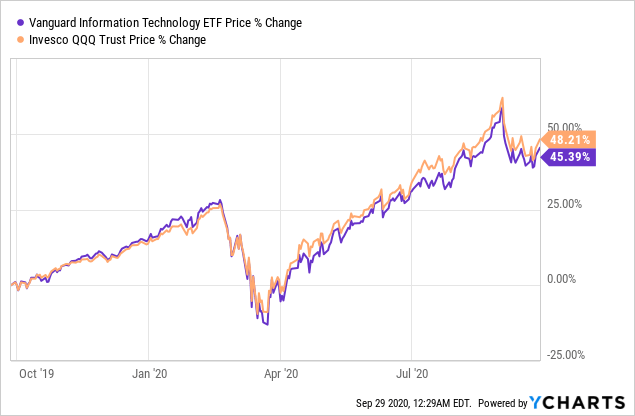 Now, both VGT and QQQ are dominated by big companies in the technology sector such as Apple (NASDAQ: AAPL) and Microsoft (NASDAQ: MSFT) which form both ETFs' largest two holdings respectively.
On the other hand, these two ETFs differ widely as to the other constituents with QQQ being significantly exposed to GAF meaning Google (NASDAQ: GOOG) (NASDAQ:GOOGL), Amazon (NASDAQ: AMZN) and Facebook (NASDAQ: FB).
Figure 2: Holdings of the QQQ and VGT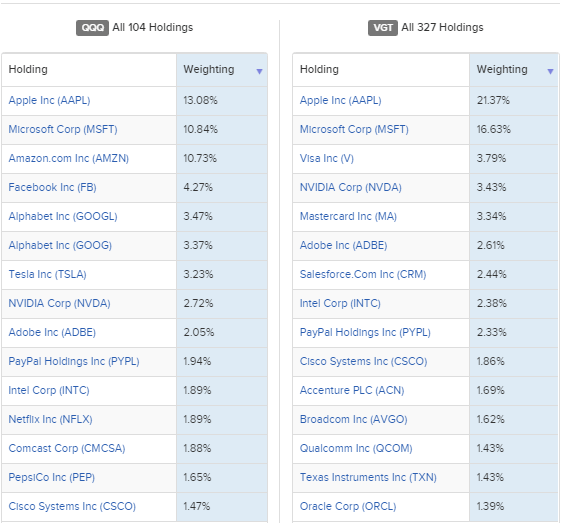 Source: etfdb.com
Behind these differences in terms of underlying stocks, VGT has some key strengths when considering risks, profitability and potential growth which means a better score in the Risk-Reward indicator.
VGT's strength
First, VGT's exposure to Microsoft at 17% compared to

… Read More
Read More